Tower of Treats
Informations
Price
900
Size
Fit
5
Type
Furniture
Cats
The Tower of Treats is a Furniture type goody that can be purchased at the Shop.
Description
Shop Description

This towering display of sweets is the perfect prop for proper English high tea.
Goody Description

It's tea time all the time with this tiered platter that's perfect for your sweetest snuggle-muffins.
N.B.
More info on the Official Thread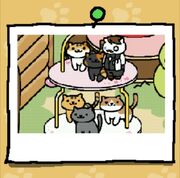 Some Goodies (ex.Lacquered Bowl) have an available extra spot for Rare Cats.
In this case the Tower of Treats offers 5 spaces to Regular Cats, but when Jeeves is visiting, the extra spot is occupied. However, three circumstances tend to make us believe that this event is just a minor bug:
Jeeves is stepping on the other Regular Cats.
This visual glitch doesn't happen when Sapphire uses the Tower of Treats.
This only happens when Sapphire, appeared alongside Jeeves, leaves the Tower of Treats.
Therefore, the extra spot (5 for Regular Cats + 1 for Jeeves) must be considered a temporary visual glitch, which is probably going to be fixed in a future minor update or patch.
Community content is available under
CC-BY-SA
unless otherwise noted.