! This page contains spoilers about Rare Cats. Proceed at your own risk. !
There are currently 66 Cats in the game, of which 22 are considered Rare Cats. Many of these are not so much "rare" as they are "special" Cats, and interact in unique ways with their object of interest.
The table below lists the Goodies which will attract a particular Rare Cat to the yard. A list of descriptions and personalities may be found on the main Cats page. Players should also note that some of these cats have a much greater chance of spawning if more expensive Food is used.
Despite not being classified as a Rare Cat, Peaches is extremely hard to attract because of the cat's capricious/picky personality, so it is considered rare.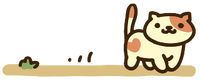 However, Peaches responds to a wide range of Goodies, accepts most foods, and does not have a unique interaction, therefore Peaches is still officially a regular Cat.
Even though Peaches isn't Rare, it is still very popular among players.
Need help collecting Rare Cats? Click here to check our Rare Cats Guide!
Trivia
Of all the Rare Cats, Frosty will appear for the largest quantity of toys.
Changelog