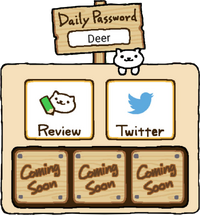 The Daily Password can be found at the NEWS tab in the Game Menu. Every day, the player can enter the password in the Connect feature of the Other tab.
The [Daily Password] is shown on a sign with a random [Normal Cat] on it
By entering the Daily Password, the player will get some free Fish or Gold Fish. This may be done once a day as the password changes everyday. The amount and type of Fish varies daily, and it is possible to get both Silver and Gold Fish at once.
For each Daily Password sent, a stamp will be gained. After every 5 stamps, the player will be presented a bonus: a boat of Sashimi!
Even if a day is missed, the stamp card will not reset, and the stamps will continue to be registered from where the player left off.
Bear in mind, the Daily password resets according to Japan's timezone (UTC+9). Make sure to check back at the right time for your timezone.
Community content is available under
CC-BY-SA
unless otherwise noted.